My Learning Steps: Learning My ABCs
Theatrical Release:
October 16, 2007
DVD Release:
November 1, 2007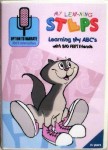 Synopsis
A unique approach to utilizing an educational video to facilitate dialogue between a parent and a child. Parents and caregivers have the option to personalize this video and narrate it themselves! This allows learning to move at the child's pace, and see how the mouth forms and pronounces letters from a familiar face. Kids are introduced to the alphabet through teaching strategies that are incorporated into today's classroom curriculum such as letter associations with familiar objects. The colorful visuals, playful animation and entertaining sing along songs create an enjoyable experience for both parent and child.
Dove Review
This is a fun way for children to learn their ABCs with colorful letters, lots of movement and fun soothing songs. The producers did a great job of repeating the ABCs without it being boring. The animation mixed with real life pictures is a great way to capture the attention of young children. This film is great for young viewers and would also make a great preschool video for your ABC theme. Sit back and watch as your youngster jumps into the next stage of learning, repeating and saying the ABCs on his/her own. This film is awarded the Dove Seal for family-friendly viewing and 5 out of 5 Doves.