P 2
Theatrical Release:
November 9, 2007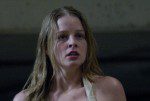 Synopsis
It's Christmas Eve: a time for curling up by the fire with family and friends; a day when even the most voracious corporate climbers generally head home by dinner time. But not Angela. She's the last one left at the office, determined to close one more deal before the holiday. The long hours she keeps will have an impact, but not the kind she's been hoping for.
When she gets down to the parking garage, she discovers her car won't start. The timing couldn't be worse; she's already late for Christmas Eve dinner with her family, the garage is deserted and her cell phone doesn't get a signal underground. But then a friendly security guard comes along and offers to help. He flirtatiously invites her to stay and share a small Christmas dinner he's preparing in the parking office, but she laughs it off. Before she knows what's hit her, she's been knocked unconscious. When she wakes up, she's tied to a chair in the security guard's office. As it turns out, his dinner invitation was not optional – and it's going to involve a lot more than a meal. If Angela wants to live to see Christmas morning, she must find a way to escape from level P2 of the parking garage.
Dove Review
This film is your typical horror genre flick: man traps woman he'll never have and is upset when she rebuffs his advances. Gory violence ensues and the woman fights for her life. Like most films in this genre, most of the action was very predictable. This film did have several moments that had me jumping as well as a few chuckles, but the violence was so bloody and over the top that I had a hard time enjoying what could have been a better flick.
This film cannot be awarded our Dove Seal. The violence was very, very bloody and graphic. There was also a fair amount of language, though it was less than a lot of the horror movies I have seen. Unfortunately, this is not much of a compliment.
Info
Company:
Summit Entertainment
Writer:
Alexandre Aja and Franck Khalfoun