Beowulf
Theatrical Release:
November 16, 2007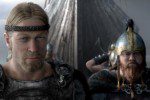 Synopsis
In a time of heroes, the mighty warrior Beowulf slays the demon Grendel and incurs the wrath of its monstrous yet seductive mother, in a conflict that transforms a king into a legend.
Groundbreaking director Robert Zemeckis offers a vision of the "Beowulf" saga that has never been told before. Warner Bros. Pictures, Paramount Pictures and Shangri-la Entertainment present "Beowulf," starring Angelina Jolie as Grendel's mother, Anthony Hopkins as the corrupt King Hrothgar, and Ray Winstone as Beowulf. The film also stars John Malkovich, Brendan Gleeson, Dominic Keating, Alison Lohman, and Robin Wright Penn.
Dove Review
This partially-animated, special effects telling of the classic literature piece is stunning, but do not be fooled into believing this is a piece appropriate for children. This is a film for adults only, not a family picture. While the story of "Beowulf" is violent, the film seems determined to step it up a notch with men literally being ripped limb from limb. However, the star power of this film is phenomenal with Anthony Hopkins, John Malkovich, Angelina Jolie, and Robin Wright Penn. Film buffs interested in the technology will only be slightly disappointed with this beautiful animation process.
This film is not awarded our Dove Seal as a family film. The imagery of the monsters would be very disturbing to many viewers. There is also carefully disguised nudity throughout the story. In one long scene, Beowulf is naked but various objects or people are placed in front of him so that you cannot see genitalia. When you see Grendel's mother, she is often naked; however, the level of nudity is the same as a naked Barbie doll – there is no definition to genitalia but the outline remains. Further content listings can be viewed below.
Content Description
Violence:
Multiple graphic monster attack scenes; man beats child twice; battle scene; man cuts off own arm.
Violence:
Multiple graphic monster attack scenes; man beats child twice; battle scene; man cuts off own arm.
Nudity:
Man in toga; scantily clad woman; multiple rear male nudity; many scenes with man naked but no genitalia seen; very low cut blouse; men in bathing suits; topless mermaid; rear and frontal nudity of woman throughout film, but not graphic nor explicit.
Info
Writer:
Neil Gaiman and Roger Avary