Love in the Time of Cholera
Theatrical Release:
November 16, 2007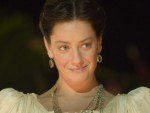 Synopsis
Based on Nobel Prize-winning author Gabriel Garcia Marquez' novel and adapted by Academy Award-winning screenwriter Ronald Harwood ("The Pianist"), "Love in the Time of Cholera" is one of the world's most romantic stories. The drama traces the Job-like vigil of Florentino Ariza, who waits for more than half a century to claim the hand of Fermina Daza, the woman he loves. Directed by Mike Newell ("Harry Potter and the Goblet of Fire," "Four Weddings and a Funeral"), and featuring a talented cast that includes Javier Bardem, Catalina Sandino Moreno, Benjamin Bratt, John Leguizamo, Giovanna Mezzogiorno, Hector Elizondo and Liev Schreiber.
Dove Review
The film adaption of the award-winning book is beautiful in its story-telling with many funny and poignant moments. Two young people experiencing forbidden love seek to banish the memory of the other through very different means to no avail. In the end, they find that they are experiencing the same emotions of a life unfulfilled. The acting was rich and true with beautiful cinematography and a wonderful soundtrack.
This film does not receive our Dove Seal as a family-friendly movie. One of the main characters has sex several times outside of marriage with no consequence. In addition, there are a lot of topless women throughout the film as well as some Biblical profanity early on in the film.
Info
Writer:
Ronald Harwood and Gabriel García Márquez