A Horse for Danny
DVD Release:
July 5, 2005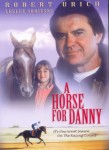 Synopsis
Danny Bara is one eleven-year-old girl who is nobody's fool. She lives at the track with her uncle Eddie, a horse trainer in the race circuit. Danny knows the horses. Danny knows the scams, and just how and when the races are fixed. Danny knows the odds makers – they depend on her for the inside story. And Danny knows that things are going to go nowhere for Uncle Eddie unless he can make his money with one great horse, a horse "you can ride into the money."
Danny has found such a horse, Tom Thumb, a yearling up for sale. He has champion potential and she knows it. She isn't fooled by Noel Ferguson, a big-time trainer who is talking Tom Thumb down. And when Moe Tully arrives in town, Danny knows it can only mean one thing – that races are going to be fixed. But there's an opportunity in that for her. Placing her bets before school and picking up her winnings after, she is soon able to bankroll Uncle Eddie, along with her friend Gerald, a groom, at a competing stable who is ready to stake his savings on Tom Thumb.
Dove Review
In "A Horse for Danny," Danny is a little girl who lives with her uncle and has become a near-professional horse gambler. She speaks the language of the betting world so well that if you aren't familiar with horse racing, you may be a little lost at times! The movie was very clean with just one scene where a man punches another man who is trying to sabotage a race.
The gambling issue is a main theme of the movie, but the racing scene is the only environment Danny has ever known. Robert Urich does a great job playing a struggling uncle who does his best to raise a niece who is much older than her years. "A Horse for Danny" earns the Dove Seal for family-friendly viewing.
Info
Company:
Echo Bridge Home Entertainment