A Rock and a Heart Place
DVD Release:
November 13, 2007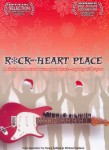 Synopsis
"A Rock and a Heart Place" is a story about an ordinary group of Americans who are making a difference and reaching out, across boundaries of race, class and religion. People who are finding that they gain far more than they sacrifice when they share with those less fortunate; people who are turning hope into acts of kindness.
"A Rock and a Heart Place" is a film that lifts our spirits. It's a film that shows us that there are people in the world who are leading joyful and fulfilling lives. The message is one of hope—by getting involved and becoming open to compassion, one can combat despair and isolation, both on a community and personal level. The effects seen here are lasting and cumulative.
This film is also a compelling reminder that, no matter what the circumstances, it's possible — and yes, essential — to enjoy life with a child-like spirit, reflecting wonder and respect, singing and dancing to the universal language of music. The people in this film, both in Holiday Express and in their audiences, understand this and it is clearly evident in their stories.
Dove Review
This is a heartwarming and moving documentary about the Holiday Express and how it came to be. The film interviews the founders and volunteers and even the people that the Holiday Express serves. The Holiday Express is an amazing non-profit foundation that spreads holiday cheer to people who are less fortunate. The foundation goes around to different places and throws giant festive parties and provides care packages to people who cannot afford such things. This film is very inspiring and would be an excellent tool and resource for people who would love to get involved with this program. Dove is proud to award the Dove Seal to "A Rock and a Heart Place" for children twelve and above.