Braincandy: Hear My World
DVD Release:
November 1, 2007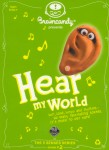 Synopsis
Smart stuff for little thinkers! Created by a mom and dad of young twins to encourage a more organic, creative approach to learning. Perk up little ears with Bruce Brain, Ana Ear, and the rest of the Sense Gang as they embark on a fantastic musical adventure! Language and literacy skills develop organically, from playing a game of "telephone" to taking a delightful "listening" walk through the park. Get little feet moving to our zesty Latin beat! The world of Braincandy – winner of more than 25 awards and endorsements! Braincandy's 5 Senses series of DVDs and CDs is chock-full of age-appropriate content that builds the foundation for critical thinking and creativity. We invite you to enjoy Braincandy with your little thinker and nourish them with a life-long love of learning.
Dove Review
This is a fun way for children to learn about the different sciences and how they work. The makers of the Braincandy films did a great job of creating an educational film that is fun for young children to watch. The unique way they used the puppets was refreshing as so many films seem to be the same these days. This is truly a creative way to get your child to learn about sounds. In the film "Hear My World" your child will play a "what is that sound?" game. This film will also teach your child some basic Spanish, ABCs and numbers. Your child will also get a chance to get up for a special time of dancing. This DVD is awarded the Dove Seal for family-friendly viewing.