The Berenstain Bears: Bears Mind Their Manners
DVD Release:
November 1, 2007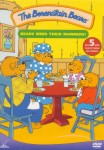 Synopsis
Please and thank you can make your day. They're as nice to hear as they are to say! Join the Berenstain Bears in a new set of adventures that focus on good manners and kindness to others. "Bears Mind Their Manners" features the following 6 episodes: "Say Please and Thank You;" "Papa's Pizza;" "Mighty Milton;" "Double Dare;" "The Big Blooper" and "Get the Gimmies."
Dove Review
The beloved children's books come to life in this wonderful DVD filled with six fun episodes. One of the unique features to each of these stories is a short poem at the beginning to give a heads up as to the lesson that will be taught. Brother and Sister Bear, although cartoons, are great examples to kids as they encourage each other, talk respectfully and are kind.
The lessons taught are very practical and are even great reminders for adults. A few of these include: using "please" and "thank you," encouraging your friends, dealing with peer pressure and recognizing that everyone has different like and dislikes. A wonderful DVD for the entire family, "The Berenstain Bears: Bears Mind Their Manners" easily earns the Dove Approved Seal for family-friendly viewing!
Info
Company:
Sony Pictures Home Entertainment
Writer:
Stan and Jan Berenstain