Dragon Tales: Dont Give Up
DVD Release:
November 1, 2007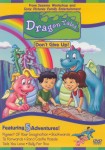 Synopsis
Pigment of Your Imagination – The group runs out of paint as they are finishing their works of art. They set off for Rainbow Canyon to find more colors. But when their map breaks, they must work as a team to put the pieces back together.
Backwards to Forwards – When music sparkles rain down on Dragon Land, everything suddenly goes backwards! When the mix-up becomes frustrating, the gang must find a way to turn things around.
Sand Castle Hassle – The kids and dragons build sandcastles so the Turtle Dragons can lay their eggs. But the castles are too close to the water and get washed away. They can't give up, so the only thing to do is try again. Features these songs: "Stretch" and "Pretend."
Tails You Lose – Lets the wind out of Emmy's idea that winning is everything.
Bully for You – Gets to the bottom of what's really bothering a scaly green meanie.
A sing-along segment and subtitles sweep this PBS program squarely into satisfaction-guaranteed territory!
Dove Review
"Dragon Tales: Don't Give Up!" is a wonderful compilation of five television episodes which are all related to things that children deal with on a daily basis. The main characters, Max and Emmy, are presented as normal kids who get mad, argue and have bad days just like any other kids. As Dragon Land is a somewhat enchanted place, there are some magical things that happen and a magic poem is used to get there.
This DVD teaches great lessons about problem solving, not being a sore loser, being kind even when others aren't and following directions. There is even a bit of Spanish taught here and there! With a catchy theme song, interesting stories and lovable dragon characters, even adults will be wishing they could go on a Dragon Land adventure! "Dragon Tales: Don't Give Up!" easily earns the Dove Seal for family-friendly viewing!!
Info
Company:
Sony Pictures Home Entertainment
Director:
Tim Eldred
, Sesame Workshop and Columbia Tristar TV