Dragon Tales: Yes, We Can
DVD Release:
November 1, 2007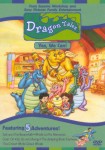 Synopsis
Zak and the Beanstalk – The Do-Re-Mi birds are gone, and Zak and Wheezie are afraid something bad has happened to them! A worried Sid Sycamore says that the birds have been kidnapped by Mungus the Giant. When Emmy, Max, Zak and Wheezie sneak into Mungus' castle and confront him, he confesses that he's not mean at all. He only took the birds because he loves their music. He agrees to let them go if the kids and dragons can teach him to make his own music.
Whole Lotta Maracas Goin On – Quetzal loves to make music with maracas but his set is broken, so the gang decides to make him a new pair for Teacher's Day. Emmy joins Cassie in pursuit of tricky Stickleback Sticks for the handles. Max teams up with Ord to get past some crabby pincher crabs to obtain beach gourds for the rattles. But Zak and Wheezie have the hardest task of all – they must coax some seeds from a boy and girl Songflower team who hold them "captive."
Up, Up and Away – The gang has a great time playing Pop the Bubbles until Ord accidentally flattens their bubble bucket. Ord and Max decide they don't need a bucket and dump Zak's entire package of bubble powder into a nearby puddle, which instantly erupts into a bubble geyser. Soon Ord is trapped inside a humongous bubble floating helplessly toward the sky! The gang tries several ways to pop it, but when they can't they tie a rope around it and pull it to the School in the Sky.
The Jumping Bean Express – Quetzal gives the gang some jumping beans to return safely to his brother. But on the way they accidentally drop the carrying case. When the cover opens, the hyperactive beans grab their suitcases, wave goodbye and make a mad dash for the forest. The kids chase the beans everywhere — under bridges, between tree trunks and over streams. Frustrated and exhausted, the kids consider giving up, but all vow to complete the task Quetzal has given them no matter how difficult.
The Great White Cloud Whale – The kids and dragons spot Captain Scaliwag's pirate ship. He's searching for the Great White Cloud Whale, who's swallowed his favorite ship. When they see the whale swimming through the sky, they help Scaliwag use balloon bait to try to trap him between two mountain peaks. But the whale grabs the bait and pulls their ship instead. When the string snaps and he swims away, Emmy tells Scaliwag not to give up.
Dove Review
"Dragon Tales: Yes, We Can!" is a wonderful compilation of five television episodes which are all related to things that children deal with on a daily basis. The main characters, Max and Emmy, are presented as normal kids who get mad, argue and have bad days just like any other kids. As Dragon Land is a somewhat enchanted place, there are some magical things that happen and a magic poem is used to get there.
This DVD teaches great stories and lessons about music, persistence, cooperation and helping others. There is even a little Spanish taught here and there! With a catchy theme song, interesting stories and lovable dragon characters, even adults will be wishing they could go on a Dragon Land adventure! "Dragon Tales" easily earns the Dove Seal for family-friendly viewing!!
Info
Company:
Sony Pictures Home Entertainment
Director:
Tim Eldred
, Sesame Workshop and Columbia Tristar TV