Holly Hobbie and Friends: Best Friends Forever
DVD Release:
November 1, 2007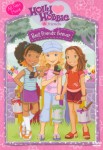 Synopsis
When a neighbor is in danger of losing her home, Holly and her friends come up with a plan that involves the whole town of Clover. Holly and the Hey Girls learn that you never know just who might make the perfect friend when they meet the town "witch" and find out she's really a wonderful old lady who can use a little help.
Dove Review
Holly Hobbie is a wonderful role model for children and adults. She has a way of brightening your day. Holly Hobbie is a very kind caring girl who will teach your children how to be kind, and to think about how other people will feel when they are treated in certain ways. Holly Hobbie befriends a widowed lady and brings the community together to help her as she is going to lose her house. Your child will also learn that the smallest act of kindness can change the life of someone in need. This film is Awarded the Dove Seal for family friendly viewing for all ages.