Lets Play Games with Mei Mei
DVD Release:
November 8, 2007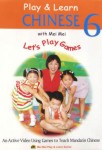 Synopsis
Play and Learn Chinese with Mei Mei 6
(Play and Learn series)
Let's Play Games
Mei Mei and Me is pleased to annouce the release of it's latest film in the Play and Learn Chinese with Mei Mei series, Let's Play Games.
This sixth video presents popular Chinese games as played by children in China today. Come join Mei Mei and learn Mandarin Chinese the fun and easy way. Mei Mei introduces nine delightful games using practical sentences, and additionally provides a Quick Review to reinforce all of these useful expressions. All language is presented in English, Pinyin, and by Chinese characters.
Dove Review
This DVD has been awarded the Dove "Family-Approved" Seal. This cute video will teach your child eight different Chinese games, with the games evenly split between inside games and outside games. However, the games are never explained in English. You learn to play the games by watching the children and sometimes the game played still isn't clear. The video may teach your children some Mandarin Chinese but it is not instinctive by any means. With no objective material, this video is a great way to introduce some new games to your child with the added bonus that your child may learn a few Chinese phrases.
Info
Starring:
Mei Mei Hu (hostess)