Walking On Water
Theatrical Release:
October 1, 2007
DVD Release:
March 1, 2011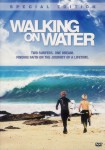 Synopsis
Whether you're a surfer or not you will enjoy this inspiring film where two young surfers embark on the opportunity of a lifetime. From the makers of award winning surf films The Outsiders and Noah's Arc, "Walking On Water" invites you to come along and see the world through the eyes of two kids as they embark on the trip of a lifetime. Luke and Tyler are given the opportunity that most young surfers only dream about.
When Bryan Jennings (Founder/Director of Walking On Water) was fourteen years old he was taken on his first surf trip by a local professional surfer. This trip had a lasting effect on his life. In WALKING ON WATER Bryan returns the favor as he takes Tyler and Luke literally around the world in hopes that they too will forever be changed. Along the way they meet up with three-time world champion surfer Tom Curren, teen shark attack survivor Bethany Hamilton, top professional surfers C.J. and Damien Hobgood, and many others. Join Luke and Tyler as they travel to Hawaii, Peru, Australia, Indonesia, South Africa, and France. In this beautiful and inspiring film, the world becomes their classroom.
From the makers of THE OUTSIDERS and NOAH'S ARK comes a story about finding faith on the journey of a lifetime.
Dove Review
"Walking on Water" is an inspiring documentary about a surfer named Bryan who takes two young teens, Luke and Tyler, on an incredible journey around the world to give them once-in-a-lifetime experiences. By showing them new cultures and meeting new people, the boys gain an understanding about life and what our purpose is for being here. The movie shows incredible footage of many countries and cities as well as amazing surfing scenes. Dove is proud to award the Dove Seal to "Walking on Water".
Info
Company:
Sony Pictures Home Entertainment
Industry Rating:
Not Rated
Starring:
Luke Davis
,
Tyleer Hallen
,
Bryan Jennings
, Cj and Damien Hogood,
Tom Curren
,
Al Merrick
,
Bethany Hamilton
,
Noah Snyder
,
Matt Beacham
,
Jesse Hines
,
Cheyne Cottrell
,
C. T
,
Taylor