History Heroes: Paul Revere – Midnight Ride
DVD Release:
December 1, 2007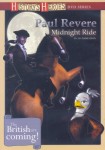 Synopsis
He was the son of a French immigrant and lived his whole life in Boston, Massachusetts. His friends and neighbors knew him as a craftsman who made beautiful things in silver and gold. But Americans know him for his midnight ride to Lexington, Massachusetts, on April 18, 1775. In this entertaining movie, you can learn how he warned the American patriots that "The British are coming! The British are coming!"
Dove Review
In this animated DVD, Ellie the American Eagle goes on this adventure with author Ralph Waldo Emerson. They listen in as plans are made for the signal in the old North Church and follow Paul Revere on his quest to warn the colonials of the red coat's advancement. The viewers will learn how the Battle of Lexington and Concord started just hours after Paul Revere's infamous ride. This DVD will be enjoyed by all viewers but will be understood better by ages seven and up. Five Doves go to this family-friendly educational DVD.
Info
Company:
American Animation Studios
Industry Rating:
Not Rated