A Christmas Visitor
DVD Release:
November 1, 2007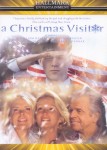 Synopsis
In the small American town of New Chatham, Christmas is approaching for the Boyajian family. But father George (Emmy® and Golden Globe® nominee William Devane, "Knots Landing"), mother Carol (Emmy® nominee Meredith Baxter, "Family Ties"), and their daughter, Jean (Reagan Pasternak, "Jail Bait"), have lost the desire to celebrate. Immersed in grief since the death of their son on Christmas Eve 1991, in the Persian Gulf War, George and Carol have forgone the familial comfort and pleasures of the holidays. But this year, George's annual visit to his son's grave has renewed faith in a heartsick father. Splitting logs for a Yule fire and retrieving old ornaments from the attic, George is determined to bring his family together. His wish comes true in ways none of them could have anticipated.
It begins when George picks up a young man named Matthew (Dean McDermott, "Brian's Song"), a hitchhiker presumably without a place to stay. Accepting the generous invitation to spend the night at George's house, Matthew also agrees to a well-intentioned charade: to pretend, for Carol's sake, that he knew their beloved son in the war. But once inside the warmth of the Boyajian home, settled around a festively decorated tree, Matthew has a few surprises in store for all of them—ones that will renew their faith in each other and in the extraordinary miracles of Christmas.
Dove Review
This is an engaging movie. Following the death of their son in Operation Desert Storm, the Boyajians haven't felt much like celebrating Christmas and in fact have not celebrated it for years. And, on top of that, the family waits anxiously to learn if their daughter has breast cancer. So they decide to do everything in their power to make Christmas like it used to be. In fact, local merchants are surprised when they begin buying lights, a tree and so forth and all the merchants, who care for this local family, donate to them everything they need to celebrate. The dad (William Devane) frequently goes to the war memorial, talking about his memories of his son and talking to him. One evening while he's there some thugs come along and try to rough him up and steal his pick-up. A shadowy figure appears in the ally, resembling a soldier. A voice from nowhere – and suddenly everywhere – scares them away.
Hospital visits, test upon test, doctors and technicians become a way of life for the Boyajians as their only daughter is put through the ringer. To top things off, a stranger the father picks up has joined them but this visitor, who says he served in the same war their son and brother did, will change their lives forever.
This is a wonderful Christmas movie for the family. The viewer will feel the turmoil the parents go through and the release when their faith is restored. The ending also might have some viewers scratching their heads regarding the visitor, but the love of the son and brother is definitely burned into the family's hearts. We award "A Christmas Visitor" five Doves. It is a film that just might renew your faith in any area where it is lacking. Yes, it is that good!
Content Description
Sex:
A teen girl kisses young man before he boards the bus to leave for the military; a daughter is angry with her father and when he asks about a boyfriend she had once, she says, "He found a lump in my breast and then moved on" (she is facing possible breast cancer).
Nudity:
Some cleavage is seen as a woman wearing a bra shows someone the stitching and surgery area.
Other:
The question remains whether the visitor is an angel or someone the family knew but at any rate he is present to encourage them to remember the love they had for the deceased son and to move on; in the beginning a wife has some resentment toward her husband but they work through it; a man who previously had not attended church attends.
Info
Company:
Echo Bridge Home Entertainment
Reviewer:
Edwin L. Carpenter