The Perfect Holiday
Theatrical Release:
December 12, 2007
DVD Release:
November 11, 2008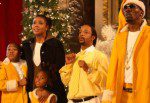 Synopsis
The first African American ensemble comedy for the Christmas season, "The Perfect Holiday" stars Gabrielle Union, Morris Chestnut, Queen Latifah, Terrence Howard, Malik Hammond, Charlie Murphy, Faizon Love, Jeremy Gumbs, Jill Marie Jones, and Rachel True.
An African American take on the classic and beloved Christmas family film, "The Perfect Holiday" tells the story of Nancy (Union), a divorced mother of three who is so busy raising her children that she's forgotten to take care of herself as well. With Christmas fast approaching, she decides to take her kids to the mall to meet Santa Claus, not knowing that her youngest daughter Emily (Khail Bryant) has sensed her mother's sadness and is determined to use her time with Santa to make her mom happy again. Just a few days prior, Emily heard her mom say that all she wanted for Christmas was a compliment from a man, so that's exactly what she tells Santa. Ironically, Santa, as it turns out, is office supply salesman and struggling songwriter Benjamin (Chestnut), who ends up giving Nancy just what she wants for Christmas, and much, much more.
Dove Review
In today's world there are many children that come from homes of divorce. "The Perfect Holiday" deals with a busy mom of three children who wants to start over. She knows it is not always easy. With a little help from her daughter and Santa, the Christmas holiday begins to look up. I have to say that coming from a family myself which dealt with the hardships of divorce, the holidays are not easy to deal with, especially when you are young. This movie deals with the changes in a family and the feelings that sometimes occur when those changes happen. This is the most delightful Christmas movie I have seen in a long time. Filled with comedy that will have you rolling in the aisles, this story is entertaining. Dove is pleased to award the "Family-Approved" Seal to this movie.
Info
Company:
Destination Films
Writer:
Lance Rivera and Marc Calixte