Charlie Wilsons War
Theatrical Release:
December 21, 2007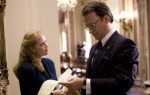 Synopsis
Based on George Crile's book about the CIA's largest and most successful covert CIA operation, the arming of the Mujahedeen in Afghanistan. The covert ops were engineered by Charlie Wilson (Hanks), a charismatic, wheeler-dealer, liberal Texas congressman who teamed with a rogue CIA operative (Hoffman). The two manipulated Congress, the CIA and a host of foreign governments in order to assist the Afghan rebels in their fight against the Soviets in the 1980s. Many of the men armed by the CIA went on to become the Taliban's enforcers and Osama bin Laden's protectors.
Dove Review
"Charlie Wilson's War" captures the essence of what is good about American foreign policy and what is bad about our policies, both generally and specifically with the Afghan War. This film, based on a true story, is very well written and has a tremendous cast. It gives us an inside look at what happened to change the world, through our government's efforts to defeat Communist aggression. Tom Hanks as Charlie Wilson is characteristically fantastic as this congressman from a small Texas town that only wants one or two things from Congress, with the biggest being lower taxes. Because of that, Wilson says "I get to vote yes a lot."
Philip Seymour Hoffman plays a crude and blunt CIA operative who is quite funny. In one scene when he first meets with Charlie Wilson in the congressman's office, Wilson keeps getting interrupted by his staff on a delicate matter and Gust (Charlie calls him Gus), is forced to leave the office many times and Hoffman uses this brilliantly, causing the audience to bust out laughing many times.
The downside of the film comes from the foul language peppered throughout the film. Combine this with the naked women, and drugs and you have the typical Hollywood fare that eliminates a film from receiving the Dove Seal. Because this is based on a true story, Wilson is portrayed as a womanizer, and a heavy drinker. In the January edition of Readers Digest in an interview with Tom Hanks and Charlie Wilson, Hanks is quoted as saying, "Let me tell you, Charlie has told more people than me that if you could drink or smoke it, he probably did it at some point." So the conclusion is that this story most likely paints Charley Wilson close to how he really is.
In any event, "Charlie Wilson's War" should be out of the appropriations budget for families. Families should allocate expenditures towards a less crude, less graphic film.
Info
Company:
Universal Pictures
Writer:
Aaron Sorkin and George Crile