Kermits Swamp Years
DVD Release:
January 1, 2008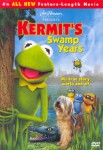 Synopsis
Meet young Kermit, a curious, fun-loving frog who likes hanging out with his amphibious best friends, Goggles and Croaker. Young Kermit loves the swamp but wonders what lies beyond the tall marsh grass. When Goggles gets nabbed by a pet store owner, Kermit and Croaker must leap into action, leaving the swamp and racing to the rescue of their friend.
With help from a world-wise dog named Pilgrim, Kermit and Croaker discover that the outside world is bigger, stranger, more dangerous and more wonderful than they ever imagined. Will they find Goggles in time? Will they ever get back to the swamp? You'll find out in this original made-for-video live action movie! An adventure-packed comical treat for the entire family, "Kermit's Swamp Years" is his true story – warts and all!
Dove Review
"The Muppet Show" is one of my favorite programs. I remember watching it as a kid and when my children were young. "Kermit's Swamp Years" will delight the entire family and take everyone on an adventure. As with all the Jim Henson presentations, it is filled with music, muppets, comedy and some lessons for life. It teaches everyone the importance of friendship as one of its lessons which makes this a great family movie. The Dove foundation is proud to award the Dove "Family-Approved" Seal to this production for all ages.
Info
Company:
Sony Pictures Home Entertainment