Fuzzy Warm Sleepy Dorm
DVD Release:
February 1, 2008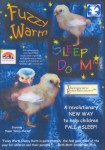 Synopsis
This is designed to captivate the attention of small children and they help them to relax for rest and sleep. This delighful parody is the first in a series of therapeutic videos that entertain and amuse through fuzzy baby animals antics, stunning visuals, and a compilation of music and sound effects. Sleepy Dorm(Tm) product-line offers parents a new approach to help lull children into a peaceful sleep. It features soothing music, sounds and images that progressively grow softer and slower. It helps establish positive bedtime rituals with children at an early age by encouraging parent and child bonding and supporting gentle separation at sleep time.
Dove Review
Sometimes it is hard to get children to settle down for a nap or even for bedtime, and this ingenious video will help with this task. Take a peaceful adventure with little baby chicks that is accompanied by enjoyable background music which will help the little ones to relax. Then when rest time is over everyone can awake to the cute lovable chicks in the "arise" sequence of the video. It is a pleasure to award this video the Dove "Family-Approved" Seal.
Info
Company:
Sleepy Dorm, LLC