Sea Monsters: A Prehistoric Adventure
Theatrical Release:
January 25, 2008
DVD Release:
June 24, 2008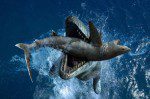 Synopsis
In the Late Cretaceous, a great inland ocean divided North America in two. A curious and adventurous dolichorynchops (familiarly known as a "dolly") travels through life"s stages, experiencing the world from her spot near the bottom of the food chain. Along the way, she"ll encounter long-necked pleisosaurs, giant turtles, enormous fish, ferocious flippered crocs, fierce sharks, and the most dangerous sea monsters of all, the mosasaurs.
Dove Review
Great 3D effects, a pleasant narration, and engaging reenactments make this IMAX experience a completely enjoyable one. Showcasing several fossil finds in the outback of Australia, western Kansas, South Dakota and Israel, the animated life-like sea creatures leap off the screen (quite literally) in a display of great ocean variety. I found the discoveries of a few great sea creatures who still had smaller creatures in what used to be their stomachs quite intriguing as it revealed that some of these creatures died shortly after a meal. It was also interesting to learn one of the creatures probably sprayed ink as a defense mechanism.
There is a vague mention of evolution as the narrator speaks of creatures who developed webbed feet and the like over a period of time but this is minimal with the emphasis of the film being on recreating what these sea creatures probably looked like based on the discovered fossil remains. The 3D effects were as good or better than any I've experienced with even life-like bubbles from the ocean floating near my head on a couple of occasions. We gladly award our Dove "Family-Approved" Seal to this documentary. But beware when you attend a screening of this film because the sea monsters will get you if you don't watch out!
Info
Company:
National Geographic Giant
Industry Rating:
Not Rated
Reviewer:
Edwin L. Carpenter