The Orphanage
Theatrical Release:
January 11, 2008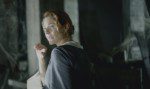 Synopsis
"The Orphanage," presented by Oscar-Nominee Guillermo del Toro, centers on a Laura (Belén Rueda from "The Sea Inside") who purchases her beloved childhood orphanage with dreams of restoring and reopening the long abandoned facility as a place for disabled children. Once there, Laura discovers that the new environment awakens her son's imagination, but the ongoing fantasy games he plays with an invisible friend quickly turn into something more disturbing. Upon seeing her family increasingly threatened by the strange occurrences in the house, Laura looks to a group of parapsychologists for help in unraveling the mystery that has taken over the place.
Dove Review
"El Orfanato" or in English, "The Orphanage" is a film of slow moving twists and turns. Laura's son ends up missing during a party she and her husband host at their new home. Laura's dream of running a home for disabled kids rapidly disappears the minute her son vanishes without a trace. From that point on Laura is consumed with finding him. Presented with English subtitles, since all the dialog is in Spanish, "El Orfanato" moves as slow as time does while an orphan is waiting to be adopted. Laura is determined to find her son at all costs even if it means entering the realm of the dead.
This film is very tame compared to most R-rated films. It has only two obscene words, and very little violence; however, because one of those words is the F word and because of the thematic elements of mediums and seeing the dead, Dove cannot award the Dove Seal to "El Orfanato". Families should adopt the Dove criterion for family films and opt for a different film, free from unsavory material.
Info
Company:
Picturehouse Entertainment