27 Dresses
Theatrical Release:
January 18, 2008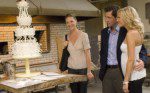 Synopsis
Jane has always been good at taking care of others, but not so much in looking after herself. Her entire life has been about making people happy – and she has a closet full of 27 bridesmaid dresses to prove it. One memorable evening, Jane manages to shuttle between wedding receptions in Manhattan and Brooklyn, a feat witnessed by Kevin (James Marsden), a newspaper reporter who realizes that a story about this wedding junkie is his ticket off the newspaper's bridal beat.
Jane finds Kevin's cynicism counter to everything she holds dear – namely weddings, and the two lock horns. Further complicating Jane's once perfectly-ordered life is the arrival of younger sister Tess (Malin Akerman). Tess immediately captures the heart of Jane's boss, George (Edward Burns). Tess enlists her always-accommodating sister to plan yet another wedding – Tess and George's – but Jane's feelings for him lead to shocking revelations…and maybe the beginning of a new life.
Dove Review
If you like romantic comedies, what could be better than a romantic comedy about every girl's favorite subject — weddings? This film is characteristically sweet, with likable characters and an uncomplicated storyline. Some would make you feel guilty for indulging your sweet tooth on a film like this, but the audience I saw this film with enjoyed their Jujubes and night-at-the-movies guilt free.
This film delivers what it promises; however, it goes a few steps too far into objectionable material. Crude language is peppered throughout and comments from the best friend character are cringe-inducing and sexual in nature. In addition, there is a scene featuring two characters drinking shot after shot eventually leading to embarrassing behavior. I wouldn't want my teenager to think behavior like this is as fun as the filmmaker makes it seem.
Due to the volume of objectionable material listed below this film does not receive our Dove "Family-Approved" Seal.
Info
Company:
Fox 2000 Pictures