Soccer Dog: Two Disc Set – The Movie and European Cup
DVD Release:
January 1, 2005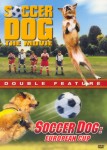 Synopsis
Soccer Dog: The Movie – It's the second game of the season and the Stampede just lost a key player. Now only Lincoln's excellent skills can lead the team to the championship. But will the PeeWee Soccer League let a dog play? And what about the cruel dogcatcher on Lincoln's tail? It's all up to Lincoln to win a championship, rally a town and unite a young family in this heartwarming comedy.
Soccer Dog: European Cup – Imagine a mutt who can outplay everyone on the field while turning a team of laughable misfits into a lean, mean, fighting machine. This pooch has got the international soccer scene by the tail!
Dove Review
Soccer Dog: The Movie – Cody is adopted and forced to join the soccer team. He finds a friend in a stray dog he names Lincoln. When Lincoln is put on the soccer team Cody feels that he is now second place in the family. All the while the dog catcher is trying to find Lincoln and the question becomes if the dog will finally be caught right before the big game. Cody has to ask his adoptive parents for help in rescuing Lincoln and making it to the game. The whole situation brings the family together and teaches Cody that parents are there to help.
Cody is a good role model and stands up for what is right, even confronting other kids who think that it's okay to bully and say destructive things. The film was filled with good lessons and friendship. Good sportsmanship is applauded. Kids will most likely enjoy this movie and watching a dog play soccer will be entertaining for the adults.
Soccer Dog: European Cup – Jack is taken to England after the death of his mother to live with is father. Jack and his dad find out it is difficult to get acquainted with family let alone family in a different country. As Jack strives to find his place in England and start a new life, he comes closer to his heritage and learns some important lessons.
It was fun to watch the dad try different things to make Jack feel at home, like making New York style pizza. The dog, Kimball, doesn't take on a big role until the end at the soccer game. There was a lot of fighting between the soccer team and Jack talked back to his dad often as they learned to live with each other. In spite of this it was a touching story of how a family comes in many different forms and that even parents can learn from their kids. Dove awards our "Family-Approved" Seal to this film.
Info
Company:
Sony Pictures Home Entertainment
Director:
Tony Giglio; Sandy Tung
Reviewer:
Stacey Langstraat