Juviez: Boyz vs. Girlz – Episode 1
Theatrical Release:
March 10, 2009
DVD Release:
March 10, 2009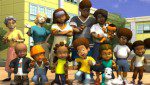 Synopsis
Juviez is a 3D animated series about a group of gifted urban kids growing up in the inner city, USA. This program revolves around the daily life lessons learned by Ray, an eight year old artistic prodigy, his little brother Manny, and his friends and classmates from his class including Junie, Alexia, JoJo and Meka.
All the kids are between six and eight years old, African American, or Hispanic, and gifted artistically or intellectually. We see everything through the eyes of a child. Fearlessly they live and enjoy the adventures of day to day living, and learning in their community. Adults are only seen when necessary, and play a supporting role in the Juviez world. Topics range from social issues to personal introspection, with humor and uplifting infusion of hip-hop, contemporary jazz, and RandB music.
Dove Review
Who is better: boys or girls? A competitive group of boy and girls race to figure out which gender is stronger and faster. They race around the playground only to have the contest end in a tie. A school spelling bee is set up to be a competition between the classes and gets turned into a contest between the boys and girls. The kids learn that the other classes are learning many more words because they are working together. The boys and girls decide to work together just in time for the spelling bee. This is a delightful story of teamwork and competition. We award this movie the Dove "Family-Approved" Seal as a family-friendly film.
Info
Company:
Conkidz Entertainment
Industry Rating:
Not Rated
Starring:
Lani Minella; Kimberly Reid; Mac McNair; Bre McNair
Reviewer:
Stacey Langstraat