Atonement
Theatrical Release:
January 18, 2008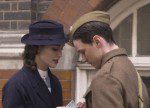 Synopsis
Shot on location in the U.K., the film's story spans several decades. In 1935, 13-year-old fledgling writer Briony Tallis (Saoirse Ronan) and her family live a life of wealth and privilege in their enormous mansion. On the warmest day of the year, the country estate takes on an unsettling hothouse atmosphere, stoking Briony's vivid imagination. Robbie Turner (James McAvoy), the educated son of the family's housekeeper, carries a torch for Briony's headstrong older sister Cecilia (Keira Knightley). Cecilia, he hopes, has comparable feelings; all it will take is one spark for this relationship to combust. When it does, Briony – who has a crush on Robbie – is compelled to interfere, going so far as accusing Robbie of a crime he did not commit. Cecilia and Robbie declare their love for each other, but he is arrested – and with Briony bearing false witness, the course of three lives is changed forever. Briony continues to seek forgiveness for her childhood misdeed. Through a terrible and courageous act of imagination, she finds the path to her uncertain atonement, and to an understanding of the power of enduring love.
Dove Review
The director of this film takes the viewer on a beautiful ride while telling a tragic and fascinating tale. This is a very high quality film which uses the cinematic experience to the fullest. Visually there are breathtakingly beautiful scenes. The score is brilliant, using music and the sound of a typewriter to define the pace of the film. "Atonement" was first a best-selling book and the literary undertones carry through to the screen. The author uses flashbacks in a unique way by showing the same scene from a different perspective.
While this film has some good moments, it is not a family film. The event that sets this tragedy in motion is a sexually charged relationship that is consummated and the rape of a young girl. These events are witnessed by a child and it defines her entire life causing her to seek atonement. In addition this takes place during World War II and the scenes of battle scarred soldiers are quite graphic. Please note the content issues below.
Due to excessive language, sex and violent situations, we cannot award this film our Dove "Family-Approved" Seal.
Info
Writer:
Ian McEwan and Christopher Hampton