Rambo
Theatrical Release:
January 25, 2008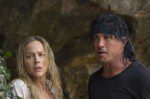 Synopsis
In Thailand, a group of Christian aid workers recruit John Rambo to guide them up the Salween River to deliver medical supplies to the Karen tribe of neighboring Burma (aka Myanmar). When the missionaries fail to return, Rambo is persuaded to take a group of mercenaries back into the war-torn border region to find them. What follows is a descent into hell on earth.
Dove Review
I seldom have had such mixed feelings while watching a film. On the one hand, this story of Christian missionaries going into war-plagued Burma, where genocide is a harsh reality, and their attempt to bring comfort and medical help, is a noble part of the plot. Rambo is reluctant to rent out his river boat to the missionaries until a young woman named Sarah says, "Trying to save a life isn't a waste of your life." Rambo agrees to go along and it's a good thing, for they soon run into river pirates who desire to rape Sarah, and the missionaries need Rambo's expertise in guerrilla warfare. Unfortunately for them, this is only the beginning of their problems. While the group does reach their destination, they are soon captured and Rambo is determined to go after them. Stallone has said in an interview he wanted to make the problems of Burma seem realistic in this film. In that he is very successful.
And herein lies the problem as this movie is far from a family-friendly picture. The blood is shed big time in this film, with graphic scenes of decapitations, explosions causing scores of death, a hanging scene, people set on fire, and the abuse of women including the beginning of a rape scene. It is not one for the squeamish. Due to the strong language and violence, and a few brief scenes of nudity, we are unable to award our Dove "Family-Approved" Seal to this picture.
Info
Writer:
Sylvester Stallone and David Morrell
Reviewer:
Edwin L. Carpenter