Pingu: On Thin Ice
DVD Release:
January 29, 2008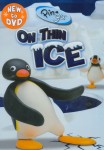 Synopsis
Watch Pingu in these hilarious fun-filled adventures. Pingu spends his days in the South Pole with his family and friends, but the mischievous penguin always manages to get himself in tricky, comical situations.
Dove Review
This delightful, highly imaginative award-winning program is nicely animated and kids and adults alike will enjoy it. Incorporated in this DVD are glistening scenes including the shanty-type home, the snow and icicles, hills and caves. Pingu the penguin knows how to have a good time and occasionally gets into mischief.
The eight episodes are: 1. Pingu and the Snowball. Watch a great snowball fight and be awed by the gigantic snowball as it rolls down the hill. 2. Pingu and Pinga Go Camping. Pinga is frightened after Pingu tells her a few scary stories. 3. Stinky Pingu. After being covered with a dirty substance, Pingu falls into a garbage can and becomes really dirty! Laugh at him as a cute scene shows him wiping off with a towel. 4. Pingu's Ice Sculptures. Pingu adds to a friend's sculpture and soon enters a competition. He and his friend are happy with the end results. 5. Pingu's Balancing Act. A seal can balance a fish on its nose and Pingu wishes to learn the art of balancing. When the seal accidentally tosses his fish on a shanty top, Pingu comes to the rescue. 6. Pinga has hiccups. After Pingu gets a straw for Pinga to drink from, she goes from making loud drinking noises to getting the hiccups. She is offered various opinions as to what to do to be rid of them. Standing on her head and blowing up air in a bag doesn't help. 7. Pingu Gets Lost. When Pinga becomes ill Pingu goes to fetch a bottle of milk for her and winds up lost in a cave. Can he free himself and get the milk back to Pinga? 8. Robby the Snowboarder. Fun on the hills! This is what Pingu and his friends enjoy in this episode.
This is an award-winning and wholesome program. We are happy to award our Dove "Family-Approved" Seal and five Doves to this great children's and family program.
Info
Company:
20th Century Fox Home Ent.
Industry Rating:
Not Rated
Reviewer:
Edwin L. Carpenter