How She Move
Theatrical Release:
January 25, 2008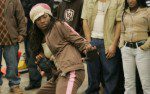 Synopsis
How She Move is an energetic, gritty and ultimately inspiring coming of age tale about a gifted young woman who defies all the rules as she step dances her heart out to achieve her dreams. Featuring a fresh cast of new discoveries, this Sundance Film Festival hit marks the feature film debut of the electric RUTINA WESLEY, with street-style step sequences by top choreographer Hi Hat and special appearances by RandB singer-songwriter Keyshia Cole and comedian DeRay Davis.
Bursting with raw talent and intelligence, Raya Green (WESLEY), the daughter of Jamaican immigrants, has always been the family's one great hope. She won the rare chance to break out of their drug and crime-infested neighborhood when she was accepted into the exclusive Seaton Academy. But when her sister dies of an overdose, the family is shattered and Raya is forced to return to the place she tried so hard to escape.
It's not easy to go back – especially when one-time friends, including the tough minded Michelle (TRÉ ARMSTRONG), see Raya as a stuck-up traitor who left the community behind. Feeling trapped and looking for a way out, Raya learns about a step competition with a $50,000 cash prize that could change her fate.
Dove Review
"How She Move" has some fantastic, hip, new style of dancing that combines elements from break dancing, competitive cheerleading, tap, and even Irish step dancing, driven by a fast pace beat. These kids can really move and it is amazing to see some of the elements present in their dance routines. Much like the urban elements depicted in "West Side Story" of gangs and kids challenging other kids, "How She Move" has dance teams known as "crews" and they challenge each other through "step offs" instead of violence. Although occasionally tempers do flare enough for a few punches to be thrown.
Raya, a beautiful young gifted student tries to acclimate herself to the urban environment and in doing so discovers a new talent of dancing or "steps" as it is called. Her mother wants her to concentrate only on her studies and getting into college but Raya says "Just because I'm moving ahead doesn't mean I have to leave all of this behind."
This PG-13 gritty tale is not family friendly and in my opinion should have received an R-rating because of the language and sexual content. Families might wish to "step aside" on this film and step quickly to one of the many other family films around.
Info
Company:
Paramount Vantage