Dragon Tales: Its Cool to be Me!
DVD Release:
April 2, 2002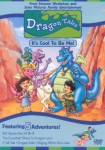 Synopsis
Dragon Tales adventures feature dragons as playmates helping children learn important lessons in life that will develop their character and allow them to build healthy relationships. The DVD features five episodes: Not Separated At Birth, The Greatest Show In Dragon Land, Dragon Sails, A Tall Tale, and Staying Within the Lines. In addition, there are four Dragon Tune Sing-Alongs.
Dove Review
Children will find these "Dragon Tales" interesting as there are five episodes in this DVD filled with imaginative characters. In "Not Separated At Birth" Zakky and Wheezie are able to be from from being a two-headed dragon for a time but find they miss their togetherness. In episode two, "The Greatest Show in Dragon Land", the kids, Max and Emmy, take a special ride across the lake. They have fun including enjoying a ride down the side of the mountain. In "A Tall Tale" the dis once again use the charm to head to Dragon Land and this time they help the unicorn Eunice find her glasses. One funny line includes Eunice telling the kids, "If only I had my glasses, I could help you look for them." In episode four, "Dragon Sails"; The kids face difficulties in crossing the Rainbow River and the waterfalls loom ahead. In episode five, "Staying within the Lines", the kids help color a mountain in Dragon Land, as well as other colorless creatures and creations, as a big rainstorm washed much of it away.
We gladly award our Dove "Family-Approved" Seal to this imaginative and entertaining DVD.
Info
Company:
Sony Pictures Home Entertainment
Writer:
Rick Gitelson and Laurie Bauman Arnold
Industry Rating:
Not Rated
Reviewer:
Edwin L. Carpenter