Storm Hawks: Hawks Rise Again
DVD Release:
January 31, 2008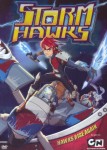 Synopsis
Here on Atoms, the only defense against the evil Cylclonian Empire are the gallant squadrons of high-flying Sky Knights. When Aerrow discovers he's the lone heir to the greatest squadron of all, The Storm Hawks, he decides to rebuild! Now, five unlikely teenagers – Sky Knight Aerorw, navigator Piper, Pilot Stork, sharpshooter Finn, the mmighty Wallop Junko and furry sidekick Radarr – have taken on both the name and the quest. Armed with high-octane tranforming flying motorcylces, the new Storm Hawks are determined to protect their world from the young and darkly powerful Master Cyclonis and her evil champion, The Dark Ace.
Dove Review
The unique animation makes this a DVD that many kids and teenagers will want to watch. Vivid colors, futuristic cycles and flying aircraft, in addition to the stories of good vs. evil and memorable characters make this one a highly entertaining choice.
The episodes: In "Age of Heroes" Part one, the Sky Knights pick up the mantle of the Storm Hawks and begin fighting new and evil enemies as in the days of old. There are great sky battles and although a character's ship is destroyed he manages to survive in an imaginative scene. in "Age of Heroes" Part two, a villain declares, "This time-no mercy!" But he is dealing with the Storm Hawks. who are as creative as they are energetic. The flying cycles play a part in this episode. There is some violence with grenade explosions and several bad guys meeting their end. In episode three, "Gale Force Winds", there are some humorous moments; for example a character gets in an accident and winds up with a pot on his head and a can stuck to his rear. The talons attack and there are more air battles, shootings and explosions.
In episode four, "The Code", a contest takes place between the Storm Hawks and another group. The two units fly, sky write, and despite some bad judging the Storm Hawks begin to earn some respect. One of the creatures in this episode, a flaming large fowl, is interesting to watch. In the bonus and final episode, "Tranquility Now", we see colliding ships and more battles. Despite the high-tech look of this show, it was interesting to watch an "old gag" scene with some oil on the floor. This will be enjoyable viewing for viewers twelve and older and we happily award our Dove "Family-Approved" Seal to the DVD.
Info
Company:
Sony Pictures Home Entertainment
Industry Rating:
Not Rated
Reviewer:
Edwin L. Carpenter