Storm Hawks: Tales from the Atmos
DVD Release:
January 31, 2008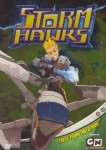 Synopsis
The Sky is never the Limit! The high-flying Sky Knight squadron returns! Tearing across the skies on their crystal-powered transforming flying motorcycles, the Storm Hawks – Aerrow, Piper, Finn, Stork, Junko and Their furry sidekick Radarr – ramp up the action to defend Atoms against the Cyclonian Empire and its deadly champion The Dark Ace! In "Tales from the Atmos" , the Storm Hawks encounter strange new worlds, and even wieder creatures on their mission to thwart the evil plans of Master Cyclonis.
Dove Review
The five episodes contained in this DVD are action-packed and take the viewer on a journey into the future where anything is possible. In Episode one, "Best Friends Forever", Piper is saved by a girl named Lark who becomes her best friend. But there seems to be more to Lark than what meets the eye. There is a great duel to look for in this one. In episode two, "The Black Gorge", the legend of Black Gorge is on everyone's mind when they crash onto this area. The Storm Hawks encounter some large creatures with very big teeth in this spooky area. In a humorous moment, one character uses an energized crystal to start up a barbecue!
In episode three, titled "Absolute Power", Starling is heading on a dangerous mission and requests Aerrow's help. There is some exciting cycle riding scenes in this episode, and there is some good-natured banter between Finn and Piper over the record player. In episode four, "Velocity," a great race takes place and velocity plays a part in it. One of the Storm Hawks is captured and tied up. There are some more sky battles in this episode. Finally, in the bonus episode, episode five, titled "Fire and Ice", a few squadrons deal with a snow and ice planet but a volcano erupts and a question of survival becomes all important. To lighten up this episode a bit, we have a couple of characters who enter a frozen pie eating contest!
These episodes are animated by talented artists and the stories are fun to watch. We gladly award our Dove "Family-Approved" Seal to this DVD.
Info
Company:
Sony Pictures Home Entertainment
Writer:
Asaaph Fipke and Eric Hayden and Steve Ball
Industry Rating:
Not Rated
Reviewer:
Edwin L. Carpenter