Its a Big Big World: You Can Do It
DVD Release:
February 1, 2008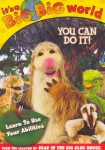 Synopsis
Join in the adventures of Snook, the charismatic sloth who lives in the World Tree with his colorful animal friends! Together they investigate the world around them and discover how different things live, grow and change. It's a Big Big World. Geared toward preschoolers,
Dove Review
If you've seen any other "It's a Big Big World" episodes, this DVD is no exception when it comes to making learning fun! "It's a Big Big World: You Can Do It!" teaches viewers about animal senses, animal specialties, animal body structure, echoes and animal sounds. Snook, a sloth and host of the show, is a gentle guy who introduces scientific words in each episode and helps his friends learn about the world around them.
There is a large aspect of environmentalism in the DVD, but nothing edgy or questionable. If your children love the outdoors, animals, songs or facts, they will LOVE this DVD. It is squeaky clean, educational and of the highest quality. Dove easily awards "It's a Big Big World: You Can Do It!" the Dove "Family-Approved" Seal.