Dragon Tales: Easy as 1,2,3
DVD Release:
January 31, 2008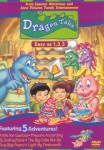 Synopsis
A KITE FOR QUETZAL: Everyone wants to surprise Quetzal by making a kite. They make a list of the materials they'll need and set off in different directions to locate them. But when they all return with sticks and string, they decide they need a better plan.
PREPARE ACCORDING TO INSTRUCTIONS: Quetzal sends the gang to see the dancing crystals at Crystal Cave! Emmy doesn't think they need to follow instructions and the whole gang gets lost. She soon comes to understand why it's good to think ahead.
THE BIG CAKE MIX-UP: The kids and dragons enter a baking contest, with hopes of winning a cookbook for Quetzal. They split up to find the ingredients, but all return with the same thing. Everyone agrees to plan better and try again.
Dove Review
Your little ones will wish they had a magic dragon scale so they could join Max and Emmy in Dragon Land. But, since they don't, this DVD is the next best thing! It is a compilation of five episodes that teach kids fun yet valuable life lessons. Two of the main themes in all the stories are the importance of organization/ working together to get things accomplished and listening and following instructions. "Dragon Tales: Easy as 1, 2, 3!" is a wonderfully clean cartoon filled with lots of color and unique dragon friends. But, Dragon Land is a magical place and so there is some whimsical magic that is used throughout. Overall, it is a fantastic DVD for children as well as all those big "kids" out there and easily earns the Dove "Family-Approved" Seal!
Info
Company:
Sony Pictures Home Entertainment
Industry Rating:
Not Rated