Dragon Tales: We Can Work It Out
DVD Release:
January 31, 2008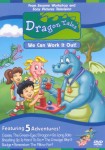 Synopsis
Cassie the Green-Eyed Monster – Cassie and Emmy learn that it's perfectly natural to be jealous of a younger brother sometimes, but it doesn't mean you love him any less.
So Long Solo – Zak and Wheezie each have their own special acts for the "Twilight Talent Show", but they'll have to take turns and work together if they both want to be the stars of the show.
Breakup Is Hard To Do – Max and Ord are both proud of the art project they've created, but they can't agree on who gets to take it home until Quetzal shows them how to take pride in sharing.
Dove Review
"Dragon Tales: We Can Work It Out!" is all about attitude! Each of the five episodes included on this DVD deal with an aspect of our attitudes towards others including: jealousy, working through disagreement, holding grudges, cooperation and arguing. Max and Emmy, the main characters, are two normal kids who get upset and angry from time to time. But, they are also great examples as they are willing to learn and try to treat each other with kindness.
Dragon Land is a magical place and so there is some whimsical magic that is used throughout the episodes. But overall, "Dragon Tales: We Can Work It Out!" is a squeaky clean DVD and easily earns the Dove "Family-Approved" Seal. So, "Come along and take my hand. Let's all go to Dragon Land!"
Info
Company:
Sony Pictures Home Entertainment
Industry Rating:
Not Rated