Strange Wilderness
Theatrical Release:
February 1, 2008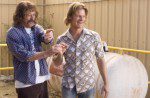 Synopsis
Animal enthusiast Peter Gaulke (Steve Zahn) and his sidekick Fred Wolf (Allen Covert) host an ailing wildlife TV show "Strange Wilderness, which is in a steep ratings decline. Desperate to save the show, Peter hatches a Hail Mary scheme to find the one animal that could truly turn the show around and change the nature-show landscape forever — Bigfoot.
Dove Review
This is by far the worst movie so far in 2008 and maybe of all time. There were four other people in the audience with me less than 24 hours after this film opened. It means that audiences might be showing some common sense and maybe doing their research on film content by not going to this loser. With lines like, "Sharks are only found two places in the world, the north and south hemispheres," spoken by Peter, the host of "Strange Wilderness", it is no wonder why audiences would stay away from this humorless film.
I am amazed that someone in Hollywood would even pay to have a film like this made. It has no value at all. I can't believe that Justin Long who last year put in a fabulous performance as Bruce Willis's sidekick, Matt Farrell, in "Live Free or Die Hard" would even accept a role in a film like this.
In any event, "Strange Wilderness" is way off the mark as a family film. With 149 obscene words which is almost 1.5 obscene words per minute, don't walk, run to an alternate film selection and leave this film to the wolves in the wilderness where it belongs.
Content Description
Sex:
Constant references to sex. Man and woman shown having intercourse. Oral sex with a turkey insinuated and turkey shown with man's penis in its throat.
Language:
Constant obscene language throughout the film. GD-2; JC-5; G-20; H-7; D-4; F-64; A-9; B-9; S-26; Cr*p-3; Slang for woman's genitals-3; Slang for man's genitals-2
Info
Writer:
Peter Gaulke and Fred Wolf