Fielders Choice
DVD Release:
June 18, 2005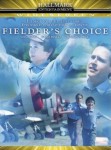 Synopsis
Life is perfect for promising advertising executive Phillip Fielder (Emmy Award-winner Chad Lowe, LIFE GOES ON) from his high-rise views down to his Tag Hag Aeuer watch and Armani suits. No disruptions, no disorder.
Out of the blue, Phillip's life is first shaken by the death of his sister Jill (Ellen Greene, LITTLE SHOP OF HORRORS)–and then by the news that he's been given temporary custody of Zach (K'Sun Ray, LOVE'S ENDURING PROMISE), his autistic eight-year-old nephew whom he barely knows. For a man devoted solely to furthering his career, becoming a surrogate parent is not a burden Phillip wants to carry.
But as he and Zach get to know one another, two hears open up–along with a future of unexpected possibilities, including one that Phillip never counted on: an enlightening change of pace called fatherhood.
A film of life lessons, self-discovery, and second chances, FIELDER'S CHOICE is the perfect story for the entire family.
Dove Review
"Fielder's Choice" is a good choice for the family. When an event leads to Phillip Fielder (Chad Lowe) taking care of his eight-year-old nephew Zach, Phillip does his best but juggles a heavy work load while adjusting to life with a young energetic boy. Zach also apparently suffers from autism, although his biggest symptom seems to be his determination to keep the "food days" the same, and to eat pizza every Friday and certain meals during the other week days. Otherwise, he is fairly good at interaction with others. Phillip has a hard time understanding why his sister chose him to care for Zach, until he begins to see some similarities between his nephew and himself, and he also learns that he is quickly becoming attached to him.
This film speaks positively on the themes of reaching out to family and friends when undergoing hardship. The characters of Phillip and Zach both grow in this story and the movie focuses on what is important in life. We are happy to award our Dove "Family-Approved" Seal to this film. If you want a good choice for a family film, "Fielder's Choice" is it!
Info
Company:
Echo Bridge Home Entertainment
Writer:
Scott Huebscher and Dan Roberts
Industry Rating:
Not Rated
Reviewer:
Edwin L. Carpenter