Spellbound
DVD Release:
February 1, 2008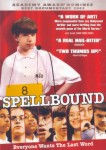 Synopsis
"Spellbound" follows the lives of eight young America who share one goal: to win the National Spelling Bee.
Think this sounds boring? Prepare to be blown away. The Bee is as intense a competition as any Olympic match, and for the spellers and their families, the stakes are just as high. The unbearable pressure becomes even more extraordinary as it is felt by ordinary teenagers. Watch as the Bee becomes a dramatic backdrop for the bigger story about kids and families today as we discover that within the roller coaster ride of the National Spelling Bee can be found the heart of America.
Dove Review
This is a fascinating behind the scenes look at eight spellers who long to win the National Spelling Bee. As you get to know each one and the spellers' families, you will find yourself rooting for them as they go up against a lot of tough competition. You will see the parents encourage the spellers, and also remind them that winning isn't everything. You will see tears flow and the look of frustration. Some will provide comic relief with the expressions they give when they are uncertain about certain spellings. See who finally wins in the tenth and final round. We will give a hint-it is one of the eight you will meet, but which one?
We happily award our Dove "Family-Approved" Seal to this DVD and recommend it for all ages, although the very young may find it slow going. The bonus features and "Where are they now?" feature is a nice addition.
Info
Company:
Sony Pictures Home Entertainment
Industry Rating:
Not Rated
Starring:
Nation Wide Spelling Bee Champs
Reviewer:
Edwin L. Carpenter