Elmos World: Opposites
DVD Release:
March 21, 2008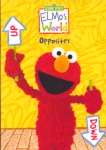 Synopsis
Join Sesame Street's curious red monster as he explores opposites! Each episode comes to life in Elmo's bright, exciting, and very original room – the drawer, door, shade, and TV all join in the fun. How do you go up and down on a see-saw? What types of things open and close? Which is faster, a tortoise or a hare? Elmo and his friends explore all kinds of opposites in this delightful DVD. Also featuring Elmo's pet goldfish, Dorothy, the zany Mr. Noodle and the ever-adorable Super Grover.
Dove Review
Everyone loves Elmo and this is a great way to help children understand opposites. Elmo uses illustrations and songs to show the difference between things like up and down. Sesame Street teaches as well as entertains and Elmo is a character that children love. Opposites are hard for children to understand so it is great that Elmo has his way of showing children the difference between them. We happily award our Dove "Family-Approved" Seal to this DVD for all ages.
Info
Company:
Genius Products, Inc
Reviewer:
Stacey Langstraat