Be Kind Rewind
Theatrical Release:
February 22, 2008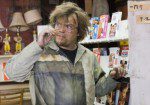 Synopsis
Jack Black stars in "Be Kind Rewind," a one-of-a-kind comedy from the mind of writer/director Michel Gondry ("Dave Chappelle's Block Party," "Eternal Sunshine of the Spotless Mind"). Black stars as a lovable loser stuck in a life that's too small for his big dreams. But when he unintentionally erases all the tapes in a video store where his best friend works, he devises a plan to satisfy the store's few loyal customers by re-creating and re-filming every movie they decide to rent.
Dove Review
If possible, the viewer of this film would be better off if he/she could rewind this movie to the beginning and start over by making another film. Apart from the content issues in this film, which includes some strong language and sexual comments, the movie's jokes fall flat several times. The physical comedy does not always work, including two times when Jerry (Jack Black) vomits. The scene in which his magnetized pee runs down the sidewalk was also met with indifferent silence from the audience I screened this film with. To his credit, Black does have some funny moments, including his funny walk when he is a bit disabled after first becoming magnetized.
The director of this film seems to be out of his element with this movie. It drags at times, more often than it should. The film is not entirely without some good moments, especially when it focuses on Jack and Mike (Mos Def) and their amateur filmmaking, as they make their own versions of "Ghost Busters," "Rush Hour 2," "RoboCop" and some others.
At any rate, due to the language we are unable to award "Be Kind Rewind" our Dove "Family-Approved" Seal.
Content Description
Sex:
A few sexual comments; a comment in a film about a character wanting to have sex with another character.
Drugs:
Beer drinking and some drinks consumed at a toast; a character is seen with a cigar in his mouth in a film.
Info
Reviewer:
Edwin L. Carpenter