Charlie Bartlett
Theatrical Release:
February 22, 2008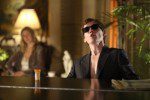 Synopsis
Among the classic high-school rebels of American movies, there have been truants, delinquents, pranksters and con artists – but there has never been anyone quite like Charlie Bartlett. An optimist, a truth-teller and a fearless schemer, when Charlie slyly positions himself as his new school's resident "psychiatrist," dishing out both honest advice and powerful prescriptions, he has no idea the ways in which he will transform his classmates, the school principal and the potential of his own life.
This is the premise of the provocative, Prozac-era comedy, CHARLIE BARTLETT, in which a wealthy teenager's foray into bathroom-stall psychiatry becomes a smart, funny and touching one-man battle against the loneliness, angst and hypocrisy of the modern world.
Anton Yelchin ("Alpha Dog") stars as Charlie Bartlett, who has been kicked out of every private school he ever attended. And now that he's moved on to public school, he's simply getting pummeled. But when Charlie discovers that the kids who surround him – the outcast and the popular alike – are secretly in desperate need, his entrepreneurial spirit takes over. Hanging up his shingle in the Boys' restroom, Charlie becomes an underground, not to mention under-aged, shrink who listens to the private confessions of his schoolmates, and makes the imprudent decision to hand out the pills he's proffered from his own psychiatric sessions. Meanwhile, at home, Charlie keeps charming his way out of an inevitable confrontation with his adoring but utterly overwhelmed mother Marilyn (Hope Davis.)
Then, Charlie Bartlett makes his big mistake: falling in love with the beautiful and bold daughter (Kat Dennings) of the school's increasingly disenchanted Principal (Robert Downey, Jr.), who is hot on his trail. As Charlie Bartlett's world and fledgling psychiatric practice unravel, he begins to discover there's a whole lot more to making a difference than handing out pills.
Dove Review
Over the years I have seen many movies with stories about high school kids-stories about the new kid, kids trying to fit in, and films about the popular kids. Some are dramas, some comedies and some with both drama and comedy. Then here comes what is suppose to be a comedy about Charlie Bartlett, who is the "new kid in town" at a public high school. He attempts to fit in and goes about the task all wrong.
This film, which seems to be aimed at high school students has an "R" rating which clearly states that it is inappropriate for that age group. I believe that it is rated correctly. With the use of offensive language, drug deals and smoking on school property, and sexual content, this definitely is not family approved. Although this movie contains many offensive materials, and was more of a drama at times than a comedy, it did contain some lessons for students and parents about high school pressures. It is too bad the film itself was not more family friendly. We are unable to award our Dove "Family-Approved" Seal to this movie.
Content Description
Drugs:
Prescription drugs used as drug deals given to high school Kids in school restroom; mother drinks alcohol while taking prescribed drug; High School students smoking cigarettes and pot on school property; A main character shown intoxicated.