Witless Protection
Theatrical Release:
February 22, 2008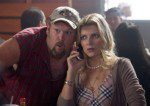 Synopsis
Larry the Cable Guy returns for another comic misadventure as a small town sheriff who unwittingly gets involved in a high profile FBI case in Lionsgate's new comedy, WITLESS PROTECTION. During a routine day spent patrolling his small town, Larry witnesses a beautiful, high-class woman, Madeleine, being held against her will by four mysterious, black-suited men. Recognizing the opportunity to save the day, Larry "kidnaps" her, only to learn that Madeleine is actually a key witness in a high-stakes Chicago crime case and her captors are FBI agents assigned to protect her. Madeleine is furious. But Larry, who rightly suspects the agents are crooked and Madeleine is in danger, forces her on a harebrained trip to Chicago to solve the case himself. Together, the mismatched duo must grapple with angry FBI agents, quack doctors and Chicago high society.
Dove Review
I am not a fan of Larry the Cable Guy's self-deprecating humor and this movie did not change my mind. His low-brow jokes and redneck comments did nothing to help an uninteresting and unintelligent plot. I lost track of the number of sexual innuendos delivered by Larry and this cast full of stereotypical and just plain stupid characters. And I haven't even mentioned the contrived accents. It didn't take long into the film before it was clear that it would be a one-joke festival with Larry's trademark similes and misstatements taking center stage.
Between the constant harsh language and sexual innuendos, there is little for a family audience to enjoy in this movie. I understand that some people like their movies simple and don't need a heavy plot to enjoy their theater experience. But, I think the filmmakers could have done better by leaving out the language and fart jokes.
This film has few redeeming qualities and does not receive the Dove "Family-Approved" Seal.
Info
Writer:
Charles Robert Carner and Alan C. Blomquist