Semi-Pro
Theatrical Release:
February 29, 2008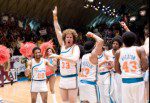 Synopsis
Will Ferrell stars in SEMI-PRO, an outrageous comedy set in 1976 against the backdrop of the maverick ABA – a fast-paced, wild and crazy basketball league that rivaled the NBA and made a name for itself with innovations like the three-point shot and slam dunk contest. Ferrell plays Jackie Moon, a one-hit wonder who used the profits from the success of his chart-topping song "Love Me Sexy" to achieve his dream of owning a basketball team. But Moon's franchise, the Flint Michigan Tropics, is the worst team in the league and in danger of folding when the ABA announces its plans to merge with the NBA. If they want to survive, Jackie and the Tropics must now do the seemingly impossible – win.
Dove Review
The Titanic is mentioned at the very end of this movie. They should have had the comment at the beginning of the film, because this one sure sinks. It is ninety minutes of mindless humor, with the emphasis on the word mindless. There are so many profanities I finally gave up trying to count. The plot is basically about a semi-pro basketball team in Flint, Michigan in the mid seventies, and the athletes act more like high school students obsessed with dirty jokes and talking about sex, instead of caring about being professional in how they conduct themselves on and off the court.
I think a couple of guys maybe laughed two or three times at the screening I went to. A lot of the "humor" must be for a certain taste because it sure was tasteless to me. Avoid this one and go see "Penelope" or another one of our Dove "Family-Approved" movies now showing at your local theater.
Info
Reviewer:
Edwin L. Carpenter