College Road Trip
Theatrical Release:
March 7, 2008
DVD Release:
July 15, 2008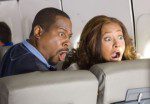 Synopsis
Choosing which college to attend can be the most exciting and thrilling time of a young woman's life…unless your overprotective father isn't quite ready to let you go. In the Disney family comedy, COLLEGE ROAD TRIP, Melanie (RAVEN-SYMONÉ) is eagerly looking forward to her first big step towards independence when she plans a "girls only" road trip to check out prospective universities. But when her overbearing police chief father (MARTIN LAWRENCE) insists on escorting her instead, she soon finds her dream trip has turned into a hilarious nightmare adventure full of comical misfortune and turmoil.
Dove Review
This is one of the best family films I have seen in some time. It is uproariously funny, with Martin Lawrence, a police chief, playing Chief James Porter, an overprotective father to Melanie (Raven-Symone). The plot is rather simple-Melanie wants to attend Georgetown University in Washington, D.C. while her father wants to keep her close and tries to persuade her to go to a local university in Chicago, Northwestern. He goes to great lengths to make this happen and therein lies some of the humor. He uses some great facial expressions which elevates the humor, and Raven Symone does a fantastic job as a high school senior, emoting "I know! I know!" while talking on the phone with her girlfriends.
Donny Osmond plays goofy very well. His character is a bit off-the-wall as he portrays a father letting go of his daughter to college as well. When he and his daughter, who is equally goofy, do a scene from "The Sound of Music", I dare you not to laugh. Another hilarious scene takes place when the GPS on Chief Porter's police van acts up and begins saying "Thank you" over and over. It has to be seen (and heard) to be believed. The film is pretty wholesome as well, with no language whatsoever and just a few minor issues of content which are listed below. It was nice to see Chief Porter grow closer to his daughter and at the same time learn to let go as the story evolved. We happily award our Dove "Family-Approved" Seal to this movie. We wish more were made like this one. This film is a testimony to what good family films can accomplish! It entertains and touches the heart. See this one for sure!
Info
Writer:
Emi Mochizuki and Carrie Evans
Reviewer:
Edwin L. Carpenter