Son of the Dragon
Network Premier:
April 3, 2008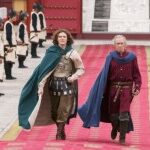 Synopsis
A stunning new version of "The Thief of Baghdad" stars David Carradine as Bird, a wise former warrior who mentors DB "Devil Boy", a young orphan and thief. The pair passes themselves off as a prince and his adviser in a plot to steal the crown jewels. But soon DB ends up having his heart stolen by the princess, and both of them may lose their heads to a rival suitor.
Dove Review
Although there are several martial art fights and sword skirmishes in this film, much of it is fantasy-based,with some of the characters leaping and twisting in the air and even flying for a few moments. There is very little blood in comparison to the battles, and although there is some magic, for example a flying carpet, none of the content hits a three rating, so we are able to award our Dove "Family-Approved" Seal to the film for ages twelve and above.
David Carradine of "Kung Fu" fame plays Bird, a sage who is a former warrior and still a formidable fighter when necessity requires it. He has been teacher to a young adult man he raised named DB, which stands for "Devil Boy". This is because of his mischief and life as a thief, and DB does not always do what Bird desires. DB is basically good at heart and helps protect and feed several orphans they have taken in. Bird tries to get him to do what is right and there seems to be hope for him. A princess falls in love with him but an evil prince has designs on her. There is a lot of action and fighting in the film and martial arts enthusiasts will no doubt enjoy it.
Info
Company:
Hallmark Channel
Industry Rating:
Not Rated
Reviewer:
Edwin L. Carpenter