Barney: Hi I'm Riff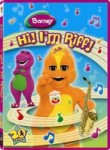 Synopsis
Should Riff start a Bird-Watching Club? He did have lots of fun watching new duckling hatch ("Do What the Duckies Do"). Or should it be a Baseball Club like the one his pal BJ suggested? Even though the sport is not his forte, he still has fun playing with everyone ("Best Friends is What We'll Be"). What about Baby Bop's Idea of a Dancing Club? After all, no one can resist doing the "Baby Bop Hop" or the electrifying energy of the Kenyan performance troupe that comes to dance up a storm on a visit to the playground (just try and stop the kids from sitting this one out, Mom and Dad!).
Considering Barney's Imagination Club ("Hey, Look at Me, I Can Fly!") and his own interest in inventing music ("You Can Make Music With Anything"), Riff ultimately forms The Best Friends Club, where everyone can do all these different things and more, and most importantly, do them together and have a Dino-mite time!
Dove Review
Barney's friend Riff decides that he wants to start a club for himself and all of his friends but he just can't decide what kind of club he wants. All of his friends have great suggestions for what kind of club they think Riff should start. A music club? An imagination club? Maybe even a baseball club. Riff takes a lot of time to think about what kind of club would be the best for his friends. Riff thinks about all the things he enjoys doing too like inventing and building things; he also really loves music. After taking all of his friend's suggestions into consideration and going over his own ideas, Riff decides that the best club of all would be to start a "Best Friends Club", that way all of his friends can get together and take turns choosing whatever it is they enjoy doing the most. Included in this DVD are good lessons in accepting other's ideas, cooperation, sharing and getting along with one another.
Info
Company:
20th Century Fox Home Ent.