The Flockhearts: Farm Full of Faith – Vol. 1
DVD Release:
March 4, 2008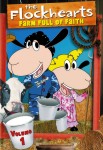 Synopsis
Join the lovable Flockheart family as they celebrate God and each other for the first time on DVD! In Two fun animated adventures, Maa, Paa, Baa and Boby Flockheart learn how to help out on the farm so everyone can go to the fair, and discover how some little lies can cause big problems. Perfect for the whole family, this fun-filled volume also includes 5 sweet sing-a-long songs and enduring family values. Kids will want to watch these
Dove Review
God helps those who help themselves:
The Flockhearts are a loving family of sheep who live and work on a farm. Bobby and sister Baa want nothing more than their Dad to be able to go to the county fair with them but Dad works from sun up to sun down on the farm with no time for fun and play. Bobby and Baa pray and ask God to allow their Dad to be able to go to the fair with them but they soon realize THEY have what it takes within themselves to help their Dad get all the chores done in time for the fair. Included in this DVD are great examples of family unity, prayer and working as a team to accomplish tasks. The kids will also learn some good lessons on problem solving. The farm animals sing some songs that have really good moral messages in them and the animals are also really funny to watch. The DVD is heartwarming and fun.
Fibs grow big on the Flockheart Farm:
Bobby and Baa are left alone in the house while Mom and Dad, Grandma and Grandpa are working on the farm. Bobby breaks Mom's cookie jar and they soon learn some hard lessons on how one little lie can turn into a big mess! Bobby and Baa realize that lies multiply and that there are consequences for telling lies. They learn that God can always see what we are doing and that it feels good to tell the truth. They also learn that God will forgive them if they are sorry and ask for His forgiveness from their hearts. This is a great tool for teaching kids moral lessons and values while they are entertained by the antics of Bobby, Baa and the farm animals.