The Flockhearts: Blessings in Disguise – Vol. 2
DVD Release:
March 4, 2008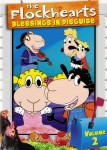 Synopsis
Celebrate with the lovable Flockheart family as they rejoice in their faith in God and bring more family fun to DVD! In two exciting adventures the Flockheart family discover their unique talents are the Farmyard Dash, and also learn to say "goodbye" to a friend. Share some special time with your child as you enjoy these entertaining animated adventures that include 4 sing-a-longs and lots more.
Dove Review
Run Baa Run:
The Flockheart family is getting the farm ready for their annual Barnyard Olympics. Bobby is bragging big about being the fastest runner but will Baa give him a run for his money? The family learns some great lessons on how we should use our God given talents to glorify God and not to use them to brag or show off. Bobby and Baa decide that working together as a team is far better than winning just for yourself.
Why Bad things happen to good Sheep:
When Bobby's pet fish dies he has a really hard time accepting that his friend is really gone. Bobby's family has to really support him and help him deal with his loss. Through Bobby's grieving process he learns that you cannot bargain with God and he also comes to realize that God has a plan for all of us that we don't always understand, but that there is a reason for everything that happens to us. The death of Bobby's fish draws the family closer together and they learn how important it is to love each other through problems big and small.