ToddWorld: Appreciating Differences – Vol. 2
DVD Release:
March 21, 2008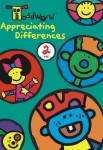 Synopsis
It's a wonderful, colorful world with Todd and his pals in "ToddWorld"! there's a rainbow of fun waiting for you as you follow Todd to a place where kids, animals and even aliens from another planet can live and play together! Every day's an adventure in Toddworld!
Come play with Todd in the six adventure-filled episodes of Toddworld: Appreciating Differences, where Todd and his friends practice for an Animal Day Parade, see things from a different point of view and spend a day at the beach! You'll also meet a boy who talks with his hands and you'll follow Todd as he learns how to use his imagination to make new toys and discover that boys and girls can play games together!
Dove Review
This is a fun way for children to learn about accepting differences. The colorful animation will grab your child's attention. Your child will learn that everyone is different and that you should not tease others just because they are not just like you. With many different episodes in one DVD you will be able to find the best one to fit you child. Dove is happy to award the Dove "Family-Approved" Seal to this program.
Info
Company:
Genius Products, Inc
Reviewer:
Stacey Langstraat