Doomsday
Theatrical Release:
March 14, 2008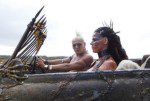 Synopsis
In "Doomsday," a lethal virus spreads throughout a major country and kills hundreds of thousands. To contain the newly identified Reaper, the authorities brutally quarantine the country as it succumbs to fear and chaos. The literal walling-off works for three decades – until Reaper violently resurfaces in a major city. An elite group of specialists, including Eden Sinclair (Mitra), is urgently dispatched into the still-quarantined country to retrieve a cure by any means necessary. Shut off from the rest of the world, the unit must battle through a landscape that has become a waking nightmare.
Dove Review
The plot of "Doomsday" is not very original: a military team goes into Glasgow in the year 2035, with a tank load of high-tech equipment, looking for a cure for the deadly Reaper virus. "Doomsday" is non-stop action from beginning to end, and feels like an amalgamation of "Resident Evil," "Mad Max," and elements of medieval Scottish civilization. Despite having an unoriginal plot, the way the filmmakers combine these different elements is somewhat interesting. And as far as action movies go, the acting is not too bad. The cast even features Bob Hoskins and Malcom McDowell. The plot isn't totally predictable. However, "Doomsday" is definitely not a kid-friendly movie, and is about as far from receiving the Dove Seal as a film can get.
It seems that action-slash-horror movies are competing for the title of "most gory" these days. If there really were such a contest, "Doomsday" would definitely be a contender for the top prize. It would be virtually impossible to keep a body count for this movie, and the blood and gore really are taken to the extreme, even by today's standards. I always wonder if movies will ever be given an NC-17 rating for extreme violence. In any case, there is one positive aspect to all this: the dialog in action movies is usually atrociously bad. But in "Doomsday," dialog is kept to a minimum, to make sure there is enough screen time for all the bludgeoning, dismemberment, and other such things. Hence there is no time for bad dialog. For more reasons why "Doomsday" is not approved by Dove, see the content description below.
Info
Reviewer:
Samantha Vandersloot