Shutter
Theatrical Release:
March 21, 2008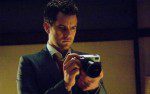 Synopsis
For photographer Ben (Joshua Jackson) and his new wife Jane (Rachael Taylor), his new assignment – a lucrative fashion shoot in Tokyo – was supposed to be a kind of working honeymoon. With this exotic professional opportunity and the limitless possibilities of a new marriage, Ben and Jane arrive in Japan. But as they make their way on a mountain road leading to Mt. Fuji, their new life together comes to, literally, a crashing halt. Their car smashes into a woman standing in the middle of the road, who has materialized out of nowhere. Upon regaining consciousness after the accident, Ben and Jane cannot find any trace of the girl Jane believes she hit with the car. Shaken by the accident and by the girl's disappearance, Ben and Jane arrive in Tokyo, where Ben begins his glamorous assignment. Having worked in Japan before and fluent in the language, Ben is comfortable there, and he eagerly reunites with old friends and colleagues. Jane, a newcomer to the city, feels very much like a stranger in a strange land as she makes tentative, unsettling forays through the city.
Ben, meanwhile, has discovered mysterious white blurs – eerily evocative of a human form – that have materialized on an entire day's work from the expensive photo shoot. Jane's concerns escalate as she believes the blurs in Ben's photos are the dead girl from the road, who is now seeking vengeance for them leaving her to die..
Dove Review
Married life proves to be less than blissful for the young newlywed couple in "Shutter." Ghostly images keep appearing in their photographs, and it soon becomes obvious that the ghost is not exactly friendly.
As usual with these types of movies the acting, dialog, and character development all leave something to be desired. Sometimes scary movies don't need all this to be enjoyable, if they're actually scary. Unfortunately, the plot of "Shutter" plods along so slowly that I could feel my eyelids drooping several times. My note-taking kept me awake; if I hadn't been reviewing the movie I would have dozed off for sure.
Besides the storyline puttering along at an alarmingly slow pace, the whole Japanese ghost story idea is becoming so overused that even a well-acted, well-directed movie with this plot would seem dull. One gets the feeling that filmmakers are just hoping to profit off of the trend started some years back by "The Ring" and "The Grudge," because I'm starting to have a hard time distinguishing one of these Japanese ghost movies from the next.
"Shutter" is not extremely violent or gory, but it does have several biblical profanities, which automatically prevent it from being awarded the Dove "Family-Approved" Seal.
Info
Company:
20th Century Fox
Reviewer:
Samantha Vandersloot